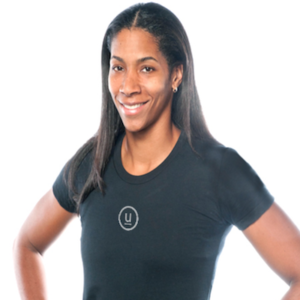 Nicole Gourdet is the founder of the Gourdet Group, a consulting firm that focuses on teaching women how to achieve all aspects of living well, including health, fitness, wellness, weight loss, and overall lifestyle.
Nicole has been a personal trainer and life coach for over 15 years. Although interested in sports from her youth, Nicole's passion for fitness originated as a college student while struggling to lose excess body fat. After figuring out what really worked, and achieving a "six-pack" her roommate and other friends wanted to know her secrets. Hundreds of touched lives later, Nicole is still passionate about helping women achieve the body and lifestyle they deserve.
As a mom, business owner, and former professional athlete, Nicole understands the unique challenges today's women face in finding a balance between personal time, family life, and career. This need has inspired Nicole to develop an online resource community of books, videos, and other training tools specifically geared toward overcoming the obstacles many women face.
A native of New York, Nicole was MVP of her high school basketball team and awarded a four-year basketball scholarship to Boston University – where she was also MVP, as well as being recruited by professional teams overseas. Following graduation, Nicole played professional basketball across Europe, traveling extensively to over fifteen countries. During her travels in Europe and Africa, she trained clients and conducted sports and fitness seminars.
Nicole now lives in Atlanta. Her clients range from celebrities to business professionals, from college and professional athletes to stay-at-home moms. When not working with clients, she enjoys traveling, composing music, and playing basketball.
Nicole's philosophy: "In order to be in the best shape possible, one must achieve all aspects of living well – which includes health, fitness, wellness, and an overall positive lifestyle."
---